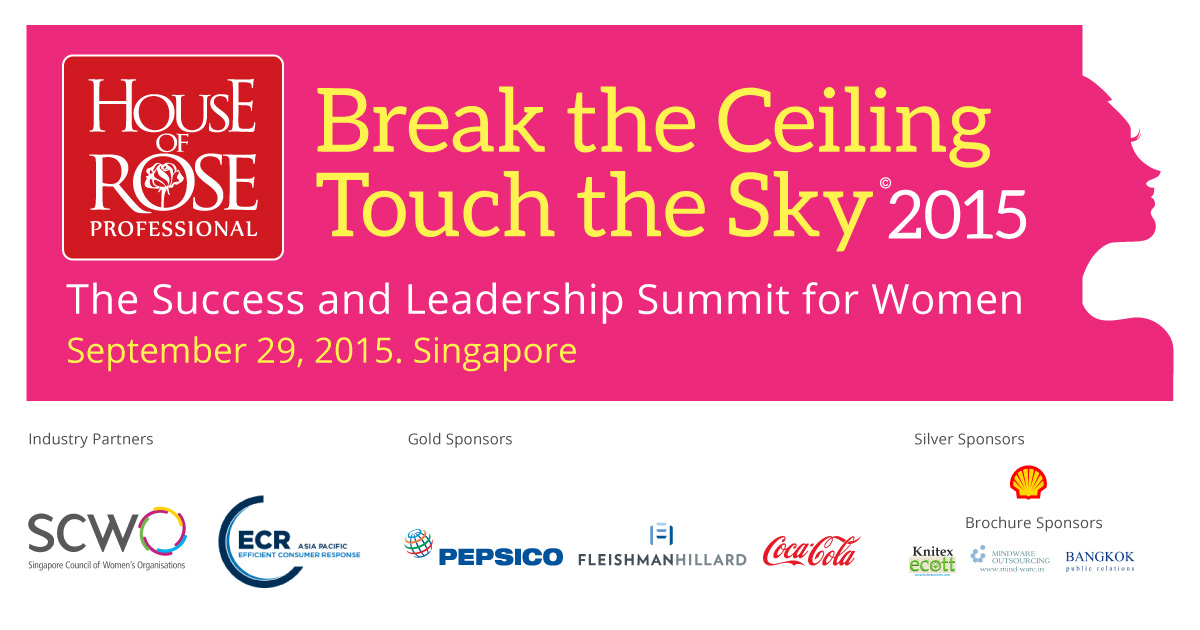 Press Release – BREAK THE CEILING TOUCH THE SKY 2015
HOUSE OF ROSE PROFESSIONAL LAUNCHES
"BREAK THE CEILING TOUCH THE SKY 2015"- SUCCESS SUMMIT FOR WOMEN
SCWO and ECR AP as industry partners; PepsiCo, FleishmanHillard, Coca-Cola and SHELL step up as sponsors
Singapore, July 15, 2015
:
House of Rose Professional Pte. Ltd
. today announced plans for its annual success and leadership summit for women titled
"BREAK THE CEILING TOUCH THE SKY 2015,"
to be held on September 29 in Singapore at the Mandarin Orchard. The 2015 summit has a speaker lineup from 40 of the world's best organizations including PepsiCo, FleishmanHillard, Coca-Cola, Shell, Walmart, Unilever, P&G, Diageo, Kellogg, Standard Chartered Bank, the Human Capital Leadership Institute, AT Kearney, Accenture, SMG, MSL, etc.
PepsiCo, FleishmanHillard, Coca-Cola and SHELL
have stepped up as the summit's early sponsors. The summit also has two key industry partners –
the Singapore Council of Women's Organizations (SCWO)
and the
Efficient Consumer Response (ECR) Asia Pacific Council.
The summit is expected to attract close to 500 delegates and will enable participants to learn, connect and achieve via live sessions on topics such as success secrets of the most inspirational women, work-family balance, networking, performance with purpose, action planning, converting dreams into reality, the power of role models and mentors, etc. Commented
Anthony A. Rose, Founder Chairman and CEO, House of Rose Professional
and best-selling author of the book
Break the ceiling touch the sky
(which inspired the summit),
"Women are making incredible advances in business and society. Studies show that
Companies with the most women directors on their boards (compared to those with the least) have higher return on investment (ROI) and higher Return on Sales (ROS). Gender diversity on boards is also connected with better corporate governance.
Yet the numbers of women at the top are still lagging.
There are few formal, industry-wide opportunities for women to enhance their skills for success at the highest levels. Break the ceiling touch the sky 2015 will enable participants to learn from the expert speakers onstage, network with peers, exchange best practices and chart their own plans for success."
"Winning companies know that women in positions of power are good for business. At our agency, we recognize the power of diversity to focus our view of the real world and be a true force for change for our clients,"
said
Lynne Anne Davis
,
president of Asia Pacific for FleishmanHillard
, one of NAFE's 'Top Companies for Executive Women' for six consecutive years.
"This summit fuels conversations and strategies around development of women as leaders at all levels, with the aim of keeping them on track to the top. We applaud initiatives like this one to fast-forward gender-balanced boardrooms across Asia Pacific. In the battle for top talent, this is today's smartest, most rewarding competitive advantage."
Added
Malathi Das, President, SCWO,
"Ever since its establishment in 1980, SCWO's mission has been to actively educate and inform, and advocate for Equal Space, Equal Voice and Equal Worth and work towards the goal of advancing the status of women. One of our key initiatives – BoardAgender, aims to provide a forum to facilitate a greater awareness of the benefits of gender balanced business and the advancement of women into senior leadership positions and ultimately the boardroom. Break the ceiling touch the sky 2015 is allied to this objective and SCWO is happy to be an industry partner to this summit."
Concluded
Rose
, "We are very thankful to our speakers, our industry partners and our sponsors who have committed their time and resources to coach our summit delegates to greater success on September 29. While Break the ceiling touch the sky 2015 is primarily designed for women, it is also a valuable learning opportunity for men. Hence the very carefully selected line up of speakers. We look forward to making a tangible difference in the lives of the women and men who attend and to a successful summit.
For full details on the summit, confirmed speakers and purchase of delegate passes and registration, please visit
www.houseofroseprofessional.com
House of Rose Professional
Pte.Ltd.
is based in Singapore and operates three business divisions –
Public Relations (PR), Publishing and People.
The
PR division
provides customized CEO/Corporate Reputation solutions, APEC advisory, Crisis Management, Influencer Marketing and Cross-border PR organizational framework strategy. The
Publishing division
provides publishing services to book projects of inspirational personalities/ CEOs. The
People division
provides leadership training, executive coaching, inspirational speaking and executive search solutions. Royalties from the book sales of Anthony A. Rose's previous two books (
Daddy's Logic
, 2012 and
Break the ceiling touch the sky
, 2014) are donated to
Habitat for Humanity
and
Save the Children
respectively.
Media contact:
Anthony A Rose Chairman and CEO
House of Rose Professional Pte. Ltd.
HP: +65 83322017 Email:
anthony@houseofroseprofessional.com