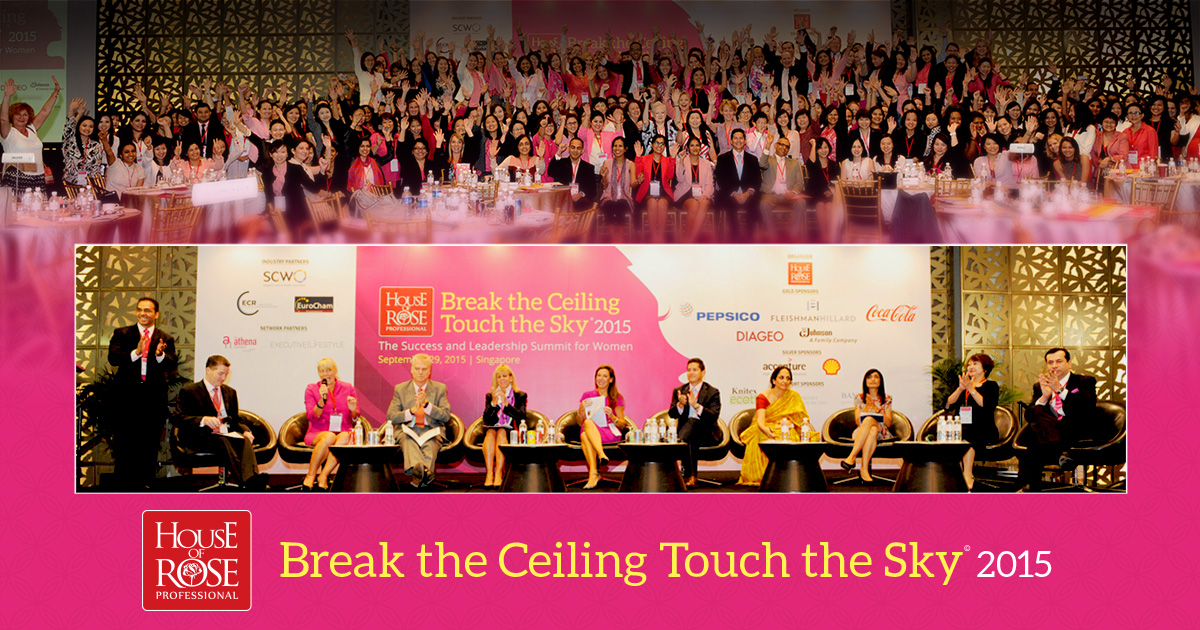 INDIA EDITION of Break the Ceiling Touch the Sky © summit in February 2016
BREAK THE CEILING TOUCH THE SKY © INSPIRES, INFLUENCES AND CONNECTS WOMEN LEADERS ACROSS ASIA VIA BEST-PRACTICE SHARING
"
EMBRACE YOUR INTUITION, LEVERAGE YOUR PASSION, PLAN YOUR WAY TO SUCCESS SAY 43 INTERNATIONAL SPEAKERS AT BREAK THE CEILING TOUCH THE SKY 2015 © – the success and leadership summit for women from the House of Rose Professional "
INDIA EDITION of Break the Ceiling Touch the Sky © summit in February 2016
, says House of Rose Professional Chairman and CEO"
SEPT 30, 2015, SINGAPORE
: House of Rose Professional's
BREAK THE CEILING TOUCH THE SKY 2015 ©
–
the success and leadership summit for women
set a new milestone for enabling women to connect and learn internationally via an inspirational line up of nine discussion sessions delivered by 43 international speakers on Sept. 29 at the Mandarin Orchard in Singapore.
Over 400 top women leaders from 85 global organizations attended the inaugural edition of the summit.
"We are delighted that the summit was attended yesterday by a record
400 women leaders from the worlds most admired Companies for leadership
including Gold Sponsors
PepsiCo, FleishmanHillard, Coca-Cola, Diageo, SC Johnson & Son,
silver sponsors
Accenture and Shell
and support sponsors Knitex Textiles, Mindware Outsourcing and Bangkok PR. Other leading supporters included P&G, Unilever, Mondelez, Microsoft, Li & Fung, A.T Kearney, Hogan Lovells, Kellogg, Pan Pacific Hotels Group, AMEX, Walmart, findaWEALTHMANAGER.com, Bangkok PR, Kimberly Clark, weddingsutra.com, Prudential, Dow Corning, Ascentador, Frasers Centrepoint etc." updated
Anthony A. Rose, House of Rose Professional Chairman and CEO.
Industry Partners
Singapore Council of Women's' Organizations (SCWO), Efficient Consumer Response (ECR) Asia Pacific
and The
European Chamber of Commerce (EUROCHAM) Singapore
placed their combined support behind the summit, enhancing participation and content. Attendees were treated to a master-class on the best practices for success and leadership for women. "This inaugural summit was a great start to putting the importance of women issues and solutions on top of the Singapore map in terms of both breadth and depth of coverage," shared Malathi Das, President, SCWO. She also encouraged participants to
"
Question All Assumptions, there is nothing that women cannot achieve."
"The positive impact of women in the workplace is huge. Women leaders have higher levels of "social sensitivity" that has been linked to a group's effectiveness in solving difficult problems."
commented
Max Rangel, Senior Vice President, Asia, SC Johnson & Son,
encouraging women to use that intuition.
"Author your own career. Start with yes. Follow your passion,"
shared
Joy Rice, Supply Chain Director, Global Travel and Middle East, Diageo (and Co-Chair, ECR AP).
"What does your best life look like?" questioned Gill McLaren, GM – Coca Cola Company,
Singapore, Malaysia and Brunei Region
, challenging women to take a broad view of life and bravely pursue their dreams. Earlier in the day
Julie Hamilton, Chief Customer and Commercial Leadership Officer, The Coca-Cola Company
had reiterated,
"Diversity is at the heart of our business."
"Leverage your passion, plan and 'go for it' whatever the challenges
," shared
Joanne Soo, CEO, Ace Adventure, who successfully climbed Mt. Everest in 2009.
"Believe in yourself and raise your hands when opportunities arise. To build high performing, sustainable and equitable businesses, we need greater participation of women (who bring leadership competencies of authenticity, collaboration and long term thinking) in the workforce," reiterated Alex von Behr, Chief Customer Officer, Unilever.
Speaking about the power of goals and action planning,
Chester Twigg
,
Vice President – Customer Business Development, P&G
suggested a
'SORT' Formula
– keep the goal directional yet plans specific, identify obstacles, resources and list realistic timelines.
Speaking about the power of mentorship
, Laura Ashton
,
Marketing Leader at A.T. Kearney, Asia Pacific Region and Global Relationship Marketing, AT Kearney
commented,
"Look for a person who genuinely cares when finding the right mentor."
Anuradha Challu, Vice President – HR Core Services, PepsiCo AMEA
said, "Focus on engagement versus just inclusion. A successful and joyful workplace is a function of both genders – men and women – learning to work with each other such that the best potential of each is fully leveraged."
Lynne Anne Davis
,
President, Asia Pacific, FleishmanHillard
suggested that leaders be more empathetic.
"The power of kindness, thoughtfulness and empathy are the cornerstone of a workplace with high EQ where quality people and relationships thrive. It compels collaboration and inclusion in a high-performance culture that benefits women and men alike,"
Anthony A. Rose, House of Rose Professional Chairman and CEO, and best selling author
of the
book that inspired the summit (Break the ceiling touch the sky: success secrets of the world's most inspirational women) added
, "Our objective was to enable and inspire women to learn, network and achieve based on best practice sharing on success and leadership and we believe we met that objective. It was amazing to see over 85 global organizations and 400 female leaders come together at our summit. The positive feedback we have received over the last few hours has been incredible. To me, it was personally very satisfying to see so many women leaders benefit from our mission to enable people to succeed."
Rose concluded by announcing House of Rose Professional's plan to launch in India.
"We will take the summit to India in early 2016
. We are intent to enable women in leadership where and when our impact will be most felt. March 2016 is our target date," he added.
House of Rose Professional
Pte.Ltd.
is based in Singapore and operates across three segments –
Public Relations (PR), Publishing and People.
The
PR division
provides customized CEO/Corporate Reputation solutions, APEC advisory, Crisis Management, Influencer Marketing and Cross-border PR organizational framework strategy. The
Publishing division
provides publishing services to book projects of inspirational personalities/ CEOs. The
People division
provides Executive search solutions, leadership training, executive coaching and inspirational speaking.
www.houseofroseprofessional.com
Media contact:
Anthony A Rose Chairman and CEO
House of Rose Professional Pte. Ltd.
HP: +65 83322017 Email:
anthony@houseofroseprofessional.com