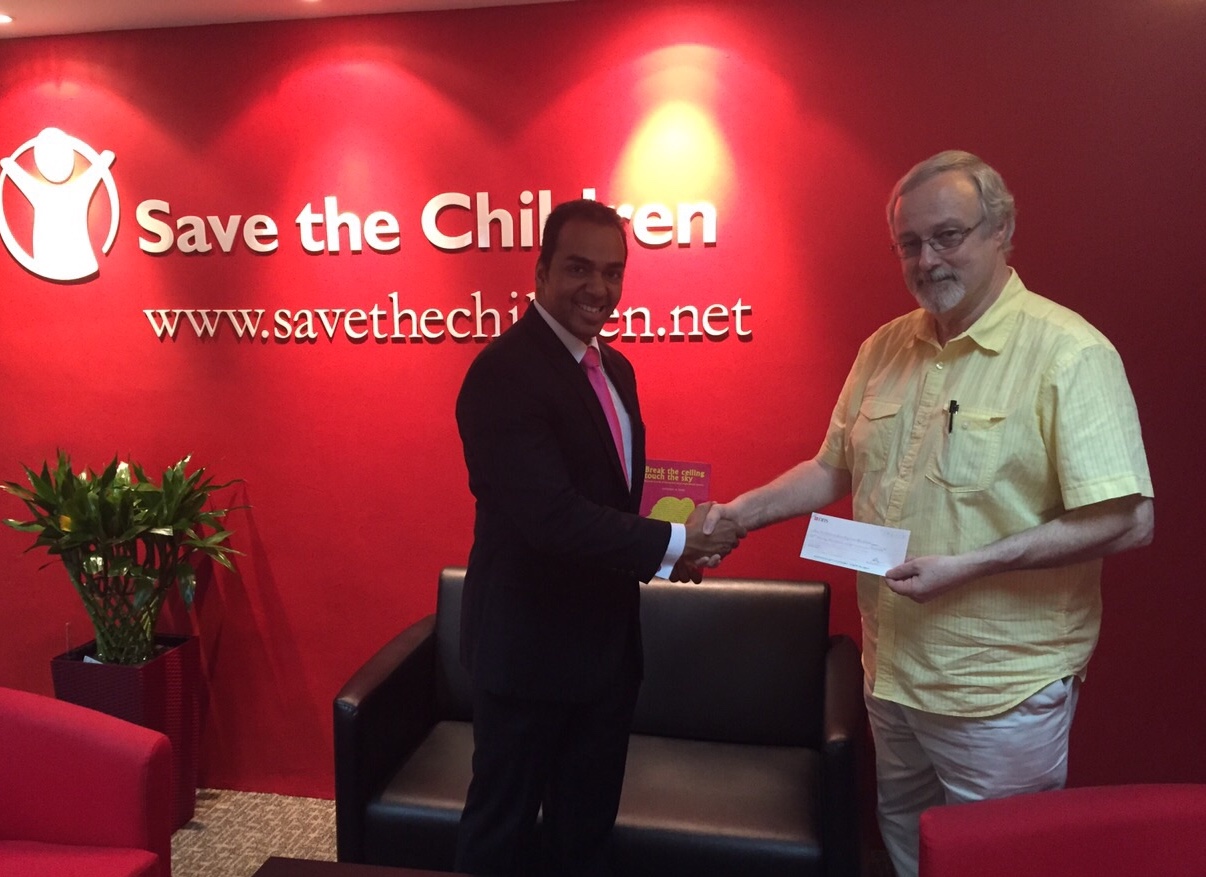 HOUSE OF ROSE PROFESSIONAL DONATES 20000 SGD TO SAVE THE CHILDREN
NEWS RELEASE
Singapore, January 9, 2015
: Influencer Marketing veteran and best-selling business author
Anthony A. Rose, Chairman and CEO, House of Rose Professional
has made the first donation of royalties from his latest book
"Break the Ceiling, Touch the Sky
;
The success secrets of the world's most inspirational women
" to
Save the Children
. The cheque for 20,000 Singapore dollars was handed over to Mike Novell, South & Central Asia Regional Director,
Save the Children,
in Singapore last evening. The amount of Singapore Dollars 20,000 will be used to fund 25000 tests for maternal anemia amongst disadvantaged women in Bihar, India. The simple test to detect anemia in the mother, and subsequent treatment is estimated to save the lives of hundreds of newly borns of women suffering from anemia. Commented
Carolyn Miles, global CEO, Save the Children,
"I want to thank you for supporting mothers and children in India through the book sales of Break the Ceiling, Touch the Sky. We are very grateful. We have also given copies to up and coming women leaders within Save the Children and the book is a hit."
The simple donation marks a milestone for House of Rose Professional, the consulting firm launched in September 2014 by Rose to provide Public Relations, Publishing and People services. At the time, Rose, with a background of 24 years leading large organizations at some of the world's most admired Companies including P&G, Walmart and GSK, had shared his vision to build House of Rose Professional into Asia's most purpose-inspired consultancy, intent on making a difference in business and the community. Rose is also the author of the best selling "Daddy's Logic" and his latest work "Break the Ceiling Touch the Sky". He has committed all royalties from these books to Habitat for Humanity and Save the Children respectively.
"I am delighted to make this first contribution to Save the Children. Save the Children is doing incredible work all around the world, helping the people who most need their help. This donation underlines the passion House of Rose professional has to make a difference; to start where we are and do what we can to support disadvantaged communities," shared Rose.
In
Break the Ceiling, Touch the Sky
Rose
shares the 14 Success Habits of 43 of the world's most inspirational women, whom he has interviewed picked from the most influential institutions on the planet. These include top women leaders such as Deb Henretta, Group President, P&G Global Beauty; Umran Beba, Senior Vice President and Chief HR Officer, PepsiCo AMEA (Asia Middle East Africa); Maria Fernanda Mejia, President, Kellogg Latin America., Dr.Lois Lee, President and CEO, Children of the night; Angie Halamandaris, Co-Founder and President, 
The Heart of America Foundation; Judith McKenna, Chief development Officer, Walmart US.; Dr. Barbara McFarland, Co-Founder and Partner of FlexLife; Leanne Cutts, President & Managing Director Japan at Mondelez International; Gail Klintworth, Chief sustainability officer, Unilever Plc; Eriko Sakurai, President, Japan/ Korea region, Dow Corning ; Kiran Mazumdar Shaw, Chairman and Managing Director of Biocon Limited; Valerie Khan, Chairperson of the Acid Survivors Foundation of Pakistan; Dominique Reiniche, former Chairman, Europe, The Coca-Cola Company; Carolyn Miles, President and CEO, Save the Children; Miki Tsusaka, Senior Partner and Managing Director of The Boston Consulting Group (BCG); Dina Howell, CEO,Saatchi & Saatchi X; Chanda Kochhar, MD and CEO, ICICI Bank; Louise Beehag, Head of Executive Education, Lee Kuan Yew School of Public Policy; Francoise Hostalier, former Deputy Education Minister, France; and Yifei Li, Country Chair, Man Group, China. The book is available at Kinokuniya stores in Singapore or Kitab Khana stores in Mumbai, India. Customers can also order direct by emailing House of Rose Professional (Email below).The book is slated for global store rollout Feb 1, 2015.
House of Rose Professional
Pte.Ltd.
Headquartered in Singapore currently operates three business divisions – Public Relations, Publishing and People. The
PR division
provides customized CEO/Corporate Reputation solutions, APEC advisory, Crisis Management, Influencer Marketing, Irresistible Storytelling and Cross-border PR organizational framework strategy. The
Publishing division
provides end-to-end publishing services to book projects of inspirational personalities/ leaders. The
People division
provides people development, executive coaching, women in leadership training and executive search solutions.
Media please contact:
Anthony A. Rose
Email
:
anthony@houseofroseprofessional.com